Citizenship & Naturalization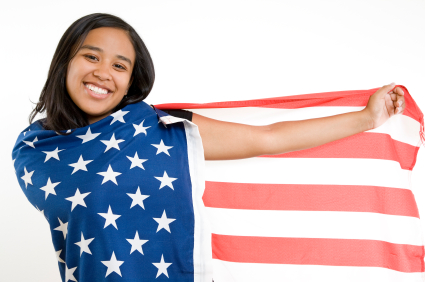 In general, to become a naturalized U.S. citizen, the following must apply: 
At least 18 years of age
U.S. Permanent Resident for at least 5 years (3 years if married to a U.S. citizen)
Resident for at least 3 months in the state where the application is filed
Physically in the United States for at least one half of the qualifying period (5 years or 3 years) without leaving for any longer than a six month period
Reside continuously in the U.S. from the date of application to the admission to U.S. citizenship
Person of good moral character (certain criminal convictions, owing taxes to the IRS, or failing to pay child support may affect this)
Read and write English at an elementary level
Understand the basic structure of U.S. government and U.S. history
You may also qualify for naturalization as a result of:
Birth in the United States. Those born in the United States are citizens regardless of the status of their parents. This is true whether the parents are citizens, green card holders, students, tourists, or illegal aliens.
Acquisition at Birth. A child born outside the United States where one or both parents are United States citizens.
Derivation Through Naturalization of Parents. A child born outside the United States may become a citizen through the naturalization of their parents. Different rules apply depending on child's age when parents naturalized, when the child entered as a lawful permanent resident, if parents were legally separated, etc.
Philadelphia U.S. Citizenship and Naturalization Attorney
Attorney Elaine Cheung, Esq. is experienced in dealing with the many rules involved in applying for U.S. citizenship and naturalization. She will thoroughly investigate your eligibility for U.S. citizenship, prepare the applications, provide the study materials, conduct a mock or practice naturalization interview, and attend the interview with you to ensure everything goes smoothly. To schedule a low cost consultation, please call 215-271-2288.